Valentine's Day 2021 Special Offers in Tikka Masala
It is always said that the way to the heart goes through the stomach. Tasty food is a good way to express your love. Valentine's day 2021 provides the best offers, When food is cooked and served with love it reflects the emotions of one's and brings them closer to your loved ones. Tikka Masala is one of the best Indian restaurants in Bethesda comes with the best special offers.
On this Auspicious occasion Valentine's day 2021, We Tikka Masala would love to become a part of your immense love by serving some of our special dishes to you with great special offers. So as valentine's day is approaching why not order some special and delicious food for your loved ones. On this special day show, your lover enjoys your day and order some tasty food from tikka masala.
Tikka Masala is one of the top-rated and best Indian restaurants in Bethesda. They have different Indian cuisines. The unique flavors from modern spices cooked Indian style make dining here a one-of-a-kind experience.
Special offers on valentine's day 2021.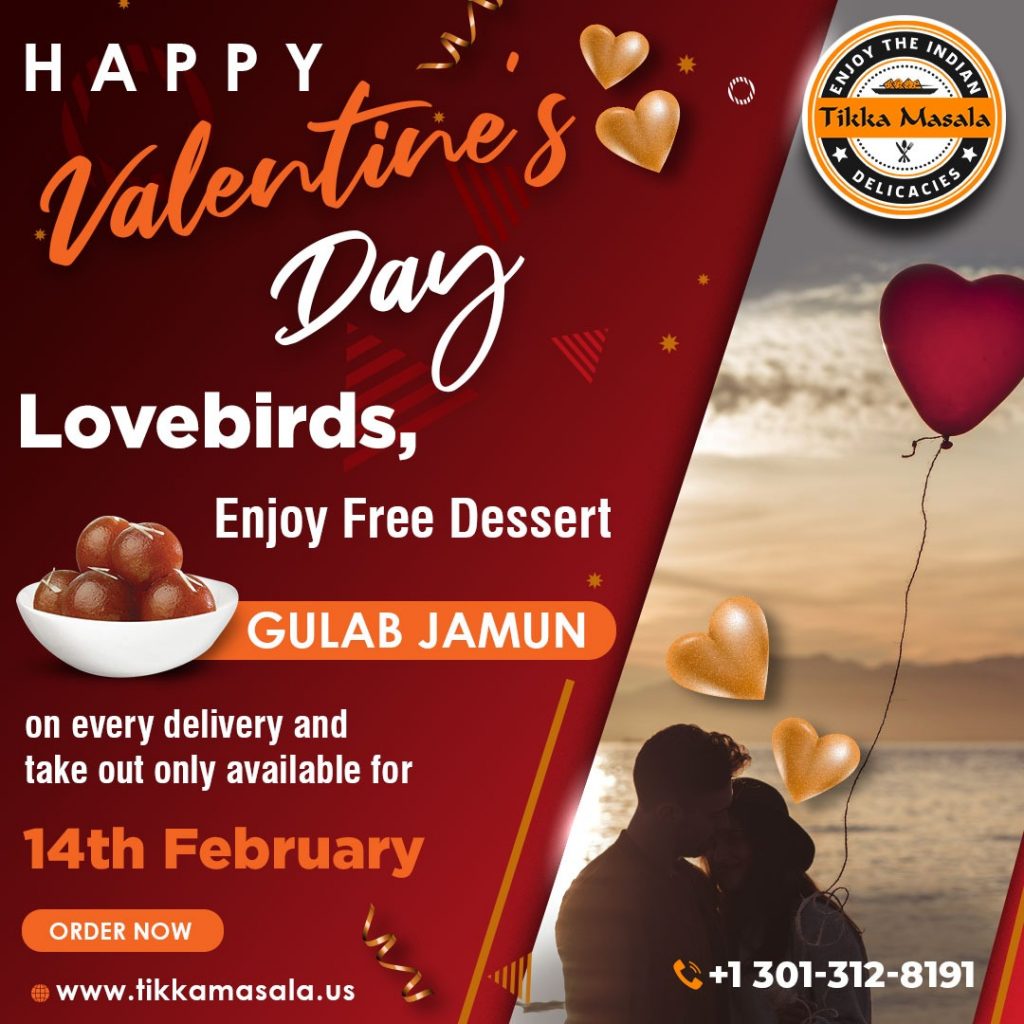 Valentine's day 2021 is not only about love but it's also about tasty food. When the food is tasty one always falls in love with it. Then why not arrange a surprise dinner or lunch date at your home for your valentine and serving them delicious food with a special sweet surprise. Tikka Masala is one of the best Indian restaurants in Bethesda is coming up with a great deal on this valentine's day where you can enjoy delicious food varieties available in veg and non-veg options. We are offering the perfect way for our lovebirds to celebrate by ordering some tasty meals with a free sweet treat from our side.
This valentine's day we are serving free gulab jamun as a desert on every online delivery and take out. On 14th February whatever you order from appetizers to sweet dish or from biryani to entrees or any special family meal you will be getting tempting Gulab Jamun free. Yes, a free gulab jamun on every meal. A tasty gulab jamun after a delicious meal is like a cherry on the cake which perfectly satisfies your cravings.
Isn't a sweet gift for all couples from Tikka Masala.
There are 500 types of delicacies served by them. They have sizzling appetizers which give a punchy Indian taste. Their food also displays the aromatic and taste and heritage of Indian food. Their starters serve samosa chat hot momos various chicken recipes and veg recipes.
The taste and aroma of Indian cuisines are made by the mixture of spices added to them. Tikka Masala will give you a finger-licking experience of whole dry spices that came all from India. The butter chicken and naan here will leave you stunned with just a bite.
Apart from nonveg Indian dishes this place also makes authentic veg traditional dishes and various special offers that have special places in Indian hearts. If you are a food explorer, then this place is the perfect place to try new cuisines.  From lamb korma to palak panner from samosa to paneer tikka from gulab jamun to goat biryani, all the dishes here are created by experts to give you the best Indian food over.
The kebabs and tikkas are also worth trying. The place serves snacks and other savories for people who love to eat on the go. We will be happy to serve you our mouth-watering dishes. Enjoy with us on this beautiful valentine's week with special dishes and special offers.
" Do order some tasty meal and sit back and enjoy. Show your love to your love with Tikka Masala and a free gulab jamun "