Tikka masala is the best Indian restaurant in Bethesda which comes up with delicious food that is filled with Aroma Indian spices. Tikka masala has always tried to serve the best Authentic recipes which are loved by every Indian which makes tikka masala one of the best new Indian restaurants in Bethesda. Our recipes are prepared by chefs which are well versed with the recipes as well as the ingredients used in them which makes our dishes quite tasty. We always try to serve the best Indian dishes to all our customers as we have the best take-out food in Bethesda MD.
If you are hungry and a craving for some hot and tasty food you must definitely order some tasty dishes from tikka masala which will definitely fill your stomach as well as your cravings. Tikka masala not only serves fabulous dishes but it also gives great deals on food meals to make our customers happy. From special festival meals like Valentine's Day to mind-blowing means on daily basis like special lunch meal or Sunday meal makes tikka masala one of the best in Town.
Special Lunch Meal From Tikka Masala New Indian Restaurant in Bethesda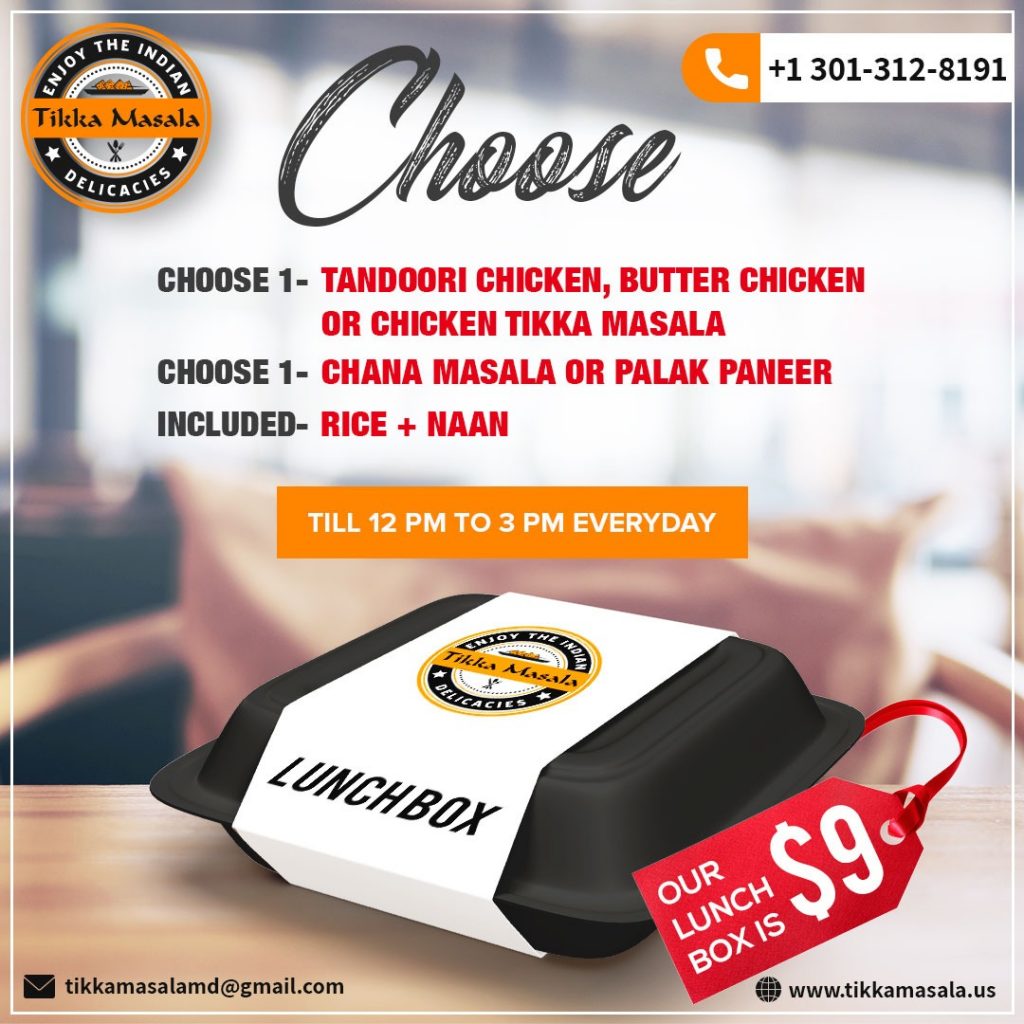 Bored from regular lunches want to eat something tasty or, want some tasty meal after a tiring day work or want to give yourself a tasty treat. Then here's a perfect meal from tikka masala where you can just satisfy yourself with some special dishes served by us.
Tikka masala- New Indian restaurant in Bethesda is coming up with a great special lunch meal which is served from 12 p.m. to 3 p.m. every day. You can order it from your mobile phone where home delivery will be provided or services of takeout are also available.
This special lunch meal is only for $9 which is quite affordable as it includes both veg and non-veg options with rice and naan. It has a good packaging which can be easily carried or portable as well as it also keeps the food hot.
While offering this mail you get three options in non-veg and two options in veg entrees which you can order as per your requirement.
This meal consists of:
Option one: non-veg entrees
(choose any one option from any of the 3 non-veg entrees)
Butter chicken
Fresh chicken cooked in a special curry of spiced tomato, butter, and cream sauce.)
Chicken Tikka Masala
Roasted and marinated chicken chunks cooked in spiced rich gravy.)
Tandoori chicken
(fresh chicken marinated in a special sauce of yogurt and secret spices and then
roasted in tandoor)
Option two: veg entrees
(choose any one option from any of the given 2 veg entrees)
Chana masala
(Chickpeas or Chana cooked in the delicious and rich gravy of onion garlic and
ginger.)
Palak panner
(fresh cottage cheeses cooked in Delicious spinach gravy with aromatic dry spices
of India)
Served with Hot Naan and basmati rice.
We tikka masala would like to serve the best take-out food in Bethesda MD.
"Isn't a mind-blowing deal? For all the food lovers. So do order a special meal for you and your loved ones so that you can enjoy a special meal as a lunch with your family."